Houston-based TAXA Outdoors is unveiling an 18-foot travel trailer called "Mantis" at RV Open House, Sept. 18-22 near Elkhart, Indiana.
The Mantis is a rugged 18-foot-long camping trailer that sleeps 4 adults, weighs under 2,300 pounds and can be stored in a standard length and height garage. TAXA looked towards the NASA program for design inspiration for the new hybrid trailer.
The basic Camp Mantis is entirely run on two 12-volt, deep-cycle batteries stowed in the kitchen area or shore power with a 110-volt inverter, either of which can power the 12-volt refrigerator. The Trek Mantis is plumbed for propane, which can be used for the two-burner stove, water heater and propane-powered refrigerator, with an optional Truma Combi furnace for year round use. Air conditioning is optional on either model.
TAXA Outdoors President Antonio Gonzalez said the Mantis is a response to customers who want more room than the space afforded by the company's current Cricket, TigerMoth and Woolly Bear product lines. "We are very purposeful in selecting rugged, high-quality components for our products because we want our customers to take on that sense of adventure," Gonzalez said. "They can go to a campground or national park, or they can pull off on a dirt road and go off-the-grid camping anywhere. We want to take them wherever that may be."
He added TAXA Outdoors is the only RV manufacturer of an 18-foot trailer that features garage-ability and weighs 2,300 pounds unloaded, thanks to the use of aluminum and polygal panels on an all-steel chassis. Because of its light weight, customers may be able to tow the Mantis with their existing vehicles, rather than having to switch to larger vehicles with additional towing capacity.
The Mantis features a center roof section that pops up to allow standing room in the kitchen and bathroom areas, yet folds down to a height of 6 foot 9 inches for improved aerodynamics during towing.
"The layout of the Mantis is exceptional," Gonzalez said. "The inside of camper is one great living area that encourages interaction with family and friends, illuminated by large translucent panels at the front and back. It's not artificially broken into compartments the way similar-sized campers are."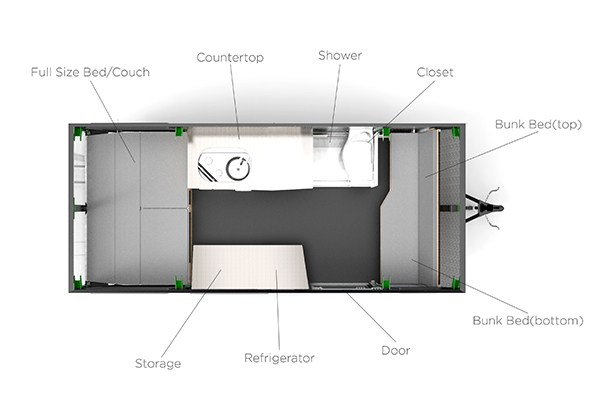 Sleeping quarters include a queen-sized bed for two adults made from vinyl cushions of memory foam, which can be converted to a couch, as well as two adult-sized bunk beds at the trailer front.
Customers can order outside panels in UV-coated gun-metal gray or brushed aluminum, with choice of a vivid orange or sand color for the fabric of the pop-up section. Fresh water capacity is 20 gallons, with a portable gray water tank and wet bath inside. Toileting is accomplished with a Dometic cassette toilet with electric flush.
Equipped with electric brakes controlled through a 7-pin connector, the single-axle Mantis has 12-inch ground clearance and an independent suspension system.
"There is plenty of storage throughout the inside, underneath the kitchen area and the bunk beds," Gonzalez said. "Owners can store their bikes inside or the outside with a hitch mount. Also, there's a cargo deck and Thule roof rack for storing bikes, kayaks or other outdoor equipment."
TAXA will be taking initial orders and discussing production slots with dealers at the Open House event in Elkhart, with the first units available after Oct. 1. The Trek model is expected to have an MSRP of $41,000.