By Abigail Trabue
Listen Below:
---
In Wiltshire, England sits a prehistoric monument of epic proportions. Featuring a ring of standing stones each around 13 feet high, seven feet wide, and weighing about 25 tons, Stonehenge is a household name shrouded in folklore and fame. Constructed between 3,000 BC and 2,000 BC it has been legally protected since 1882 and was made a UNESCO World Heritage Site in 1986. It's an awe-inspiring and curious site for sure, and if we ever do a See the World Podcast, Stonehenge will be on the shortlist. But what if you can't make the road trip to England to take in these stone wonders for yourself? Well, don't worry, because here in the states we have our very own tribute to this magnificent monument, one that only dates back 33 years, and has replaced 25-ton stones with cars—and you only have to go as far as Nebraska to see it. It's called – Carhenge.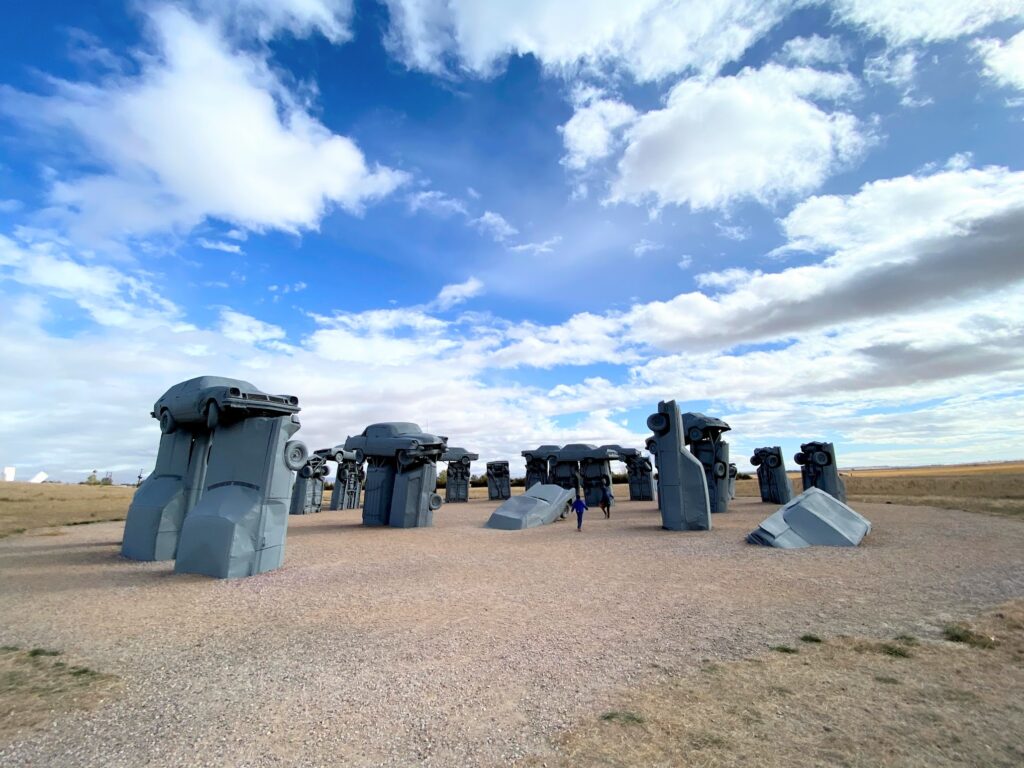 Introduction to Carhenge:
There is no shortage of unusual road trip destinations in America, we've even covered a few of them here on the podcast – Cadillac Ranch in Texas, International UFO Museum and Research Center in New Mexico, the SPAM museum in Minnesota. But a monument made entirely of cars and dedicated to one of the most infamous monuments in the world – well, that's pretty much the epitome of roadside kitsch.
Created in 1987 by Jim Reinders, Carhenge—yes, Carhenge—rising proudly over the Great Plains of Nebraska, is one of those love it or hate it attractions. It was the subject of David Liban's 2005 documentary Carhenge: Genius or Junk? And is listed in dozens of travel books, including Atlas Obscura and the 2007 travel book 1,000 Places to See in the USA and Canada Before You Die. But why Carhenge and why in Nebraska?
History of Carhenge:
Jim Reinders spent seven years in England prior to creating Carhenge. While there he had the opportunity to study the design and the purpose of Stonehenge, fostering a life long interest in the subject. Reinders eventually returned to the states, taking up residence in Houston and working as an oil consultant. In 1982, He lost his father. While gathered with family and friends in Alliance, Nebraska a seed of an idea emerged. The family set forth discussing a memorial in honor of their patriarch, and Reinders' idea of a Stonehenge replica, built on the farm where his father lived, was born. The family agreed to gather again in five years for a family reunion and bring the new Stonehenge to life. The group kept its word and on the summer solstice of 1987, they held a dedication complete with champagne, poetry, songs, and a play written by the family.
Only it wasn't Stonehenge they would complete, it would be Carhenge. Citing the cost of moving 25-ton stones to the family's farm as the reason for the switch, Reinders opted for more cost-effective automobiles from the 1950s and 60s, including a pickup truck and an ambulance. The automobiles were all purchased from local dealers around Alliance and cost around $100 each. Drawing on the seven years of knowledge Reinders acquired while living in England, Carhenge is laid out almost exactly like it's inspiration. Featuring 38 automobiles all spray painted gray, Carhenge is 96 feet in diameter with some vehicles placed in the earth, trunk ends down, and held upright in pits that are five feet deep. Automobiles used to form the arches had to be welded into place to keep them together. Carhenge even has its own famed heel stone, just outside the entrance, only here, the heel stone is a 1962 Cadillac. In addition to the replica, three cars lay buried in the sand at Carhenge. Their "gravestone," also a car, reads: "Here lie three bones of foreign cars. They served our purpose while Detroit slept. Now Detroit is awake and America's great!"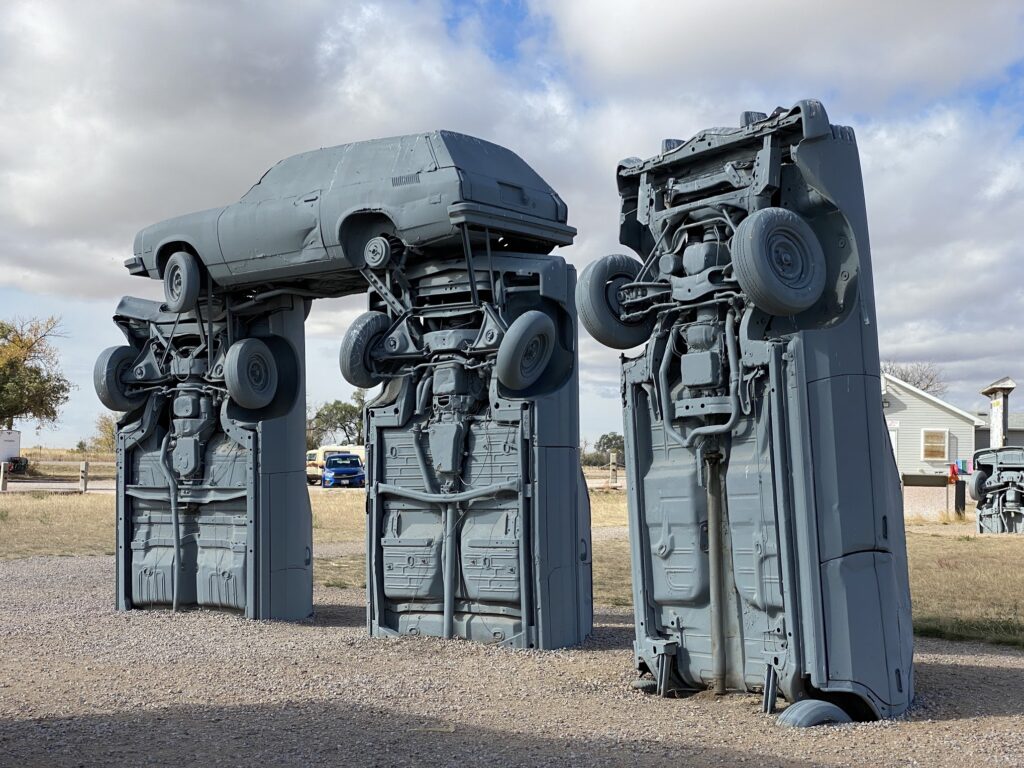 But Carhenge wasn't always the popular attraction it is today, shortly after construction the project was picked up by the local paper and Reinders is quoted as saying his wife considered the idea "stupid," while the Sheriff told the paper it was an "eyesore." "We had some calls come in. They were wondering what was happening," the Sheriff reported. "From the feedback I get, they're disappointed about the looks of it. An eyesore would probably be the name for it."
But despite the lack of enthusiasm from his partner, and the lukewarm community reception, Reinders was not discouraged. "Some people are laughing at it, some people think it is interesting. But I bet you anyone will have to drive a long way to see another one like this. As far as I know, this will be the only one in the United States like this."
Visiting Carhenge:
Reinders was right. There is only one Carhenge and it has become a not-to-be-missed attraction if you find yourself anywhere near Alliance, Nebraska. Over the years other automobile sculptures have been added to the location, and Carhenge is now home to the Car Art Reserve whose first sculpture was a spawning salmon created by then 29-year-old Canadian Geoff Sandhurst.
Eventually, Reinders would go on to donate the ten-acre farm to the Friends of Carhenge who installed a parking lot, picnic area, and an educational display board to meet the demands of increasing popularity. A fact made all the more true when Carhenge found itself in the path of totality of the August 21, 2017, solar eclipse. An estimated 4,000 people viewed the eclipse from the site and Reinders says that at the time of Carhenge's creation, he had no idea it was built in the shadow of an eclipse that would appear 30 years later.
---
Connect and Subscribe:
To learn more about the RV Miles Network, including the RV Miles and America's National Parks Podcasts, visit RVMiles.com.
You can hear this story and more on the See America Podcast. Available on Apple Podcasts or wherever you listen to podcasts.
Want to chat about great travel destinations all across the US? Join the See America Facebook Group and don't forget to follow See America on Instagram, Facebook, and YouTube.
See America is sponsored by Roadtrippers. America's #1 trip planning app. Enjoy 20% off your first year of Roadtrippers PLUS with the code RVMILES2X.