This episode of the See America Podcast was hosted and written by Jason Epperson with narration by Abigail Trabue.

Listen below, or on any podcast app:

The See America Podcast is sponsored by Roadtrippers. America's #1 trip planning app. Enjoy 20% off your first year of Roadtrippers PLUS with the code RVMILES917X.
---
The U.S. isn't really known for its vast estates, but a few were built by some of the most prominent families of the industrial revolution. One of those families seemed to be on a quest to outdo each other, creating some of America's most famous homes, culminating in the country's largest, in Ashville, North Carolina — The Biltmore Estate
Rising out of the foothills of the Blue Ridge Mountains, the Biltmore Estate seems almost to defy its own existence. It's an opulent french chateau that you would swear sits on European soil if you didn't know any better. But Biltmore is no plaster copy of a European original. It's an incredible property in its own right, rivaling any built by the Europeans.
When a Dutch farmer from the Netherlands emigrated to the Dutch colony of New Netherland, nobody would have guessed that his great-great-great-grandson Cornelius would become a captain of American industry. Cornelius Vanderbilt was the fourth of nine children born to a Staten Island family of modest means. He left school at age 11, but went on to build a shipping and railroad empire that would make him one of the wealthiest people in the world.
Starting with a single boat, Cornelius grew his fleet until he was competing with the largest on the New York Waterways, a fleet owned by Robert Fulton. Fulton's company had established a monopoly on trade in and out of New York Harbor, which was sanctioned by the state of New York. Vanderbilt, now based in New Jersey, ignored the law, steaming in and out of the harbor under a flag that read "New Jersey Must Be Free!" He hired attorney Daniel Webster to argue against the Fulton monopoly before the United States Supreme Court. Vanderbilt won, establishing an early precedent for America's first laws of interstate commerce.
As Cornelius Vanderbilt's shipping business grew, so did his fortune. Upon his death in 1877 at the age of 82, he left the majority of his vast wealth to his eldest son, William Henry Vanderbilt. William Henry, who outlived his father by just eight years, doubled the Vanderbilt wealth by investing in the New York Central Railroad. On Fifth Avenue, he built the first of what would become many grand Vanderbilt mansions. His first son, Cornelius Vanderbilt II, would go on to build the largest private residence in New York City at 1 West 58th Street.
Not to be outdone by his older brother, George Vanderbilt would eventually establish the largest home in the United States.
The youngest of William and Maria Louisa Kissam's eight children, George made regular visits with his mother to the mountains of Asheville, North Carolina. During those trips, he fell in love with the scenery and climate, deciding to build his own summer home there, which he would call his "little mountain escape."
Vanderbilt slowly began purchasing land, eventually ending up with 125,000 acres for his country estate, enlisting architect Richard Morris Hunt to design and build a 250-room home. He would call it Biltmore.
Hunt, who had previously designed houses for several Vanderbilt family members, used French Renaissance chateaus as inspiration for the Ashville project. Vanderbilt and Hunt visited several together during the design process. These estates shared steeply pitched roofs, turrets, and sculptural ornamentation.
The four-story home would face east, with a 375-foot facade to fit into the mountainous topography behind it.
Construction of the house began in 1889, mostly out of Indiana limestone. In order to facilitate such a large project, a woodworking factory and brick kiln — which would produce 32,000 bricks a day — were built onsite, and a three-mile railroad spur was constructed to bring in materials.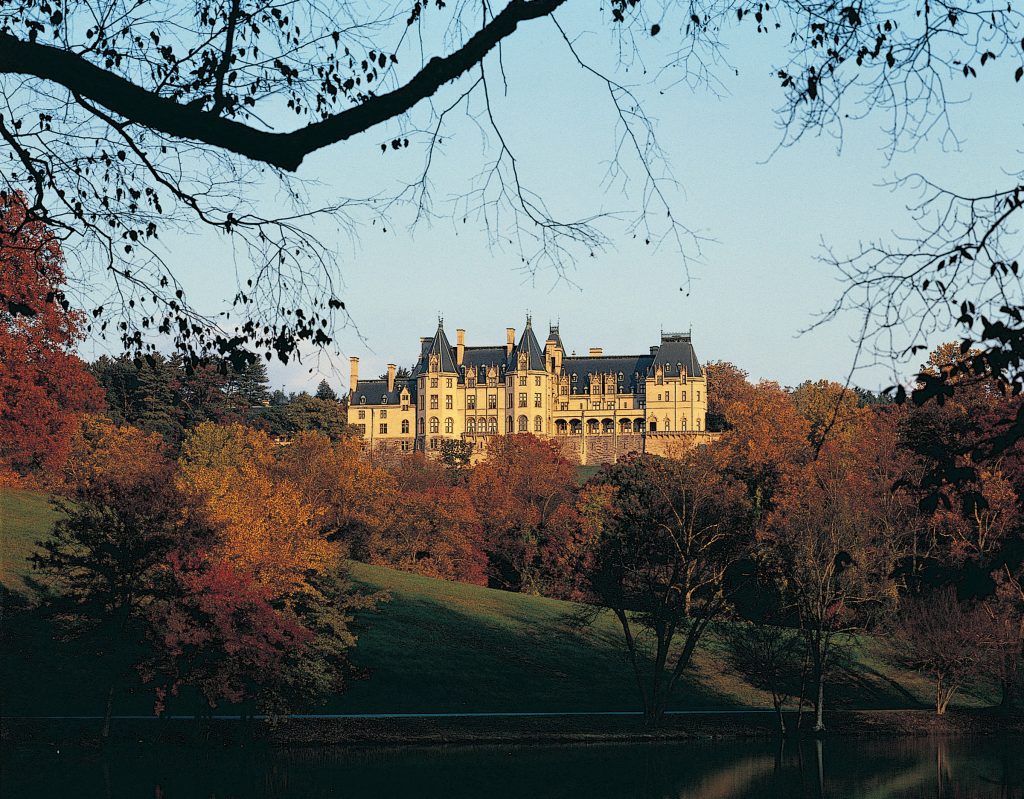 The facade of the estate is asymmetric, with two projecting wings connecting to the entrance tower, which contains a series of windows with decorated jambs that extend from the front door to the most decorated dormer at Biltmore on the fourth floor. The staircase boasts a three-story winding balustrade with carved statues of St. Louis and Joan of Arc.
The south facade is the smallest, dominated by three large dormers on the east side and a turret on the west. On the north end of the house, Hunt placed the attached stables, carriage house, and courtyard to protect the home and gardens from the wind. The 12,000-square-foot complex sheltered Vanderbilt's prized driving horses, and the carriage house opposite the stables stored his 20 carriages in addition to those of his guests.
The rear western elevation is less elaborate. Two matching towers in the center are connected to the south turret by a covered walkway that opens the main rooms of the house to the views of the Blue Ridge Mountains.
The steeply pitched roof is accented by 16 chimneys and covered with slate tiles that were affixed one by one. Copper flashing was installed on the ridge of the roof, embossed with George Vanderbilt's initials and motifs from his family crest.
Thanks to a friendship with Thomas Edison, Biltmore House had electricity from the time it was built. Because electricity was still in its infancy, the house is divided into six separate sections by brick firewalls to protect it from an electrical catastrophe.
Biltmore was designed with four acres of floor space, and boasts 250 rooms, including 35 bedrooms for family and guests, 43 bathrooms, 65 fireplaces, three kitchens and plenty 19th-century novelties such as electric elevators, forced-air heating, centrally controlled clocks, fire alarms, and a call-bell system.
The Banquet Hall, the largest room in the house, features a table that seats 64 guests surrounded by rare Flemish tapestries and a triple fireplace that spans one end of the hall. A two-story library contains over 10,000 volumes in eight languages.
In the south tower is George Vanderbilt's gilded bedroom with furniture designed by Hunt. it connects to his wife's oval-shaped bedroom in the north tower through a Jacobean carved oak paneled sitting room.
The Bachelor's wing of the house sports a Billiard Room decorated with an ornamental plaster ceiling and rich oak paneling. Secret door panels on either side of the fireplace led to the private quarters of the wing, where women were not allowed.
The basement level holds activity rooms, including an indoor 70,000-gallon heated swimming pool with underwater lighting, a bowling alley, and a gymnasium with once state-of-the-art fitness equipment. The service hub, consisting of the main kitchen, pastry kitchen, rotisserie kitchen, walk-in refrigerators, the servants' dining hall, laundry rooms, and additional bedrooms for staff, can also be found on the basement floor.
For the grounds, Vanderbilt envisioned a park-like setting and employed landscape architect and designer Frederick Law Olmsted. Olmsted was not impressed with the condition of the acreage, and advised for a park surrounding the house, establishing farms along the river and replanting the rest as a commercial timber forest.
Olmsted created an intentionally rustic four-mile approach track that began at the brick and stucco Lodge Gate at the edge of Biltmore Village. The lane was densely filled with natural and uncultivated looking foliage to provide a relaxing journey for guests. 75 acres of formal gardens directly surround the house. He constructed a Roman formal garden, a bush and tulip garden, water fountains, and a conservatory with individual rooms for palms and roses. There was also a bowling green, an outdoor tea room, and a terrace to incorporate the European statuary that Vanderbilt had brought back from his travels.
A graduated stairway zigzagging along a rough-cut limestone wall leads to the grassy slope known as the Vista, topped with a statue of Diana, the goddess of the hunt.
To supply water for the estate, Olmsted engineered two reservoirs. One was a spring-fed man-made lake on nearby Busbee Mountain. The other was a man-made, brick-lined reservoir, located behind the statue of Diana. A Bass Pond was created from an old creek-fed millpond, and a Lagoon provided guests with activities such as fishing and rowing.
Vanderbilt's goal of building a working, self-sufficient estate led him to have Hunt and Olmsted design a village with architecturally compatible buildings and picturesque landscaping that would be rented as a source of income.
The Biltmore Village included rental cottages complete with plumbing and central heating, a post office, shops, doctor's office, school, and a church. Vanderbilt also set up poultry, cattle, and hog farms, as well as a dairy. He provided financial assistance to Biltmore Industries, which taught young people how to make hand-carved furniture, woven baskets, homespun wool fabric, and more.
On Christmas Eve, 1895, 6 years after construction began, George Vanderbilt opened his opulent estate to invited family and friends from across the country.
Three years later, in early 1898, Vanderbilt proposed to family friend Edith Dresser. That June, they were married in a private 15-minute civil ceremony in a town hall in Paris, France. A quiet Italian honeymoon followed, and then George brought his bride to Biltmore House. Estate employees welcomed Edith to her new home by lining up along the Approach Road. A giant horseshoe made out of goldenrod flowers with the phrase "Welcome Home" spelled out in more flowers greeted the couple as they arrived.
---
George and Edith welcomed their daughter Cornelia on August 22nd, 1900. Cornelia spent her childhood at Biltmore and often played with the local children whose families lived and worked on the estate.
Driven by the impact of the newly imposed income taxes, and the fact that the estate was getting harder to manage economically, George Vanderbilt initiated the sale of 87,000 acres to the federal government before his unexpected death following an emergency appendectomy in 1914.
Edith completed the sale to carry out her husband's wish that the land remains unaltered, and that property became the basis of the Pisgah National Forest.
George Vanderbilt paid little attention to the family business or his investments, and it's believed that the construction and upkeep of Biltmore depleted much of his inheritance. Overwhelmed with running such a large estate, Edith began consolidating and sold Biltmore Estate Industries in 1917 and Biltmore Village in 1921. She lived in an apartment carved out of the former Bachelors' Wing, until the marriage of her daughter to John Francis Amherst Cecil in April 1924. The Cecils went on to have two sons.
In an attempt to bolster the estate's financial situation during the Great Depression, Cornelia and her husband opened Biltmore to the public at the request of the City of Asheville, hoping to revitalize the area with tourism. Biltmore closed during World War II, and in 1942, 62 paintings and 17 sculptures were moved to the estate by train from the National Gallery of Art in Washington, D.C. to protect them in the event of an attack on the United States.
After the divorce of the Cecils in 1934, Cornelia left the estate never to return; however, John Cecil maintained his residence in the Bachelors' Wing until his death in 1954.
Their eldest son, George Henry Vanderbilt Cecil, occupied rooms in the wing until 1956. At that point, the Biltmore House ceased to be a family residence, operating solely as a museum.
Financial trouble once again plagued the estate, and the Cecil's younger son, William, returned to manage it with his brother in an attempt to make it into the self-sustaining enterprise his grandfather envisioned. He eventually inherited the estate upon the death of his mother, Cornelia, in 1976, while his brother, George, inherited the then more profitable dairy farm.
In 1995, while celebrating the 100th anniversary of the estate, William turned control of the company over to his son, William Cecil, Jr. Of the 4,306 acres that make up Biltmore Estate.
The estate was designated a National Historic Landmark in 1963, and remains a major tourist attraction in Western North Carolina, with 1.4 million visitors each year.
Biltmore remains a family business, with the fourth and fifth generations of George Vanderbilt's descendants involved in day-to-day operations. The privately-owned Biltmore Company is one of the largest employers in the Asheville area. The 2,400 employees continue Biltmore's mission to preserve this national treasure.
Many make the mistake of arriving at Biltmore for a quick visit with no plan in place, and not much time to spare. This is surely an all-day affair or more. Ticket prices are on-par with amusement parks, so don't expect to get a quick look and leave. Activities include self-guided tours of the home and gardens or guided tours that include the rooftop, servants' quarters and more. You can rent a bike to explore the vast acreage. There are kayak and raft tours, fly fishing experiences, fine dining, a spa, carriage and horseback rides… so much more than we could ever fit into this episode.
For the most luxurious experience, wake up to 8,000 acres of Blue Ridge Mountain beauty with an overnight stay at the estate's four-star Inn, convenient Village Hotel, or in a private Cottage.
This episode of See America was written and hosted by me, Jason Epperson, and narrated by Abigail Trabue. If you like the show, we'd love a 5-star review on Apple Podcasts. We'd also like to invite you to follow the See America Podcast on Instagram and Facebook and join the See America Facebook group, where we chat about some of America's greatest road trip destinations.