There's a new lightweight adventure trailer available from Cruiser RV, Ford has released the details for 2022 Super Duty Trucks, Diesel motorhomes may have to get smog tests to enter California, and Starlink is one step closer to mobile-internet reality. 
New Campground Reservation Tech
We begin with CampgroundViews.com, a website that we've really appreciated for a while now that helps you see a campsite before you actually book it, with over 3,000 video tours, 40,000 photos, and 400 360 degree video tours. It's those immersive 360 tours that are really the wave of the future for campground booking. And now campgroundviews.com is taking the next step, by allowing you to actually see if a site is available and book it right from within the video. And if you're imagining that only a few campgrounds will use this technology – the site is integrating with recreation.gov's data, to offer you access to over 2000 federal campgrounds. They're working on partnering with other campground reservation systems, too. The company is launching an Indiegogo campaign to finish out the technology.
New Line From Cruiser RV
Cruiser RV, a division of Heartland has just begun production on a new "adventure-style" trailer called the Hitch.  Built to handle rough terrain, the Hitch features an all-aluminum superstructure, Azdel composite walls and marine-grade floors. Hitch will feature four-floor plans in the18 to 22 feet range, all clocking in under 4000 pounds. It comes with 15-inch off-road tires with a torsion axle, a small solar package with inverter, a solar package, WIFI, stainless steel appliances, larger showers and full-size beds.
New Ford Super Duty Trucks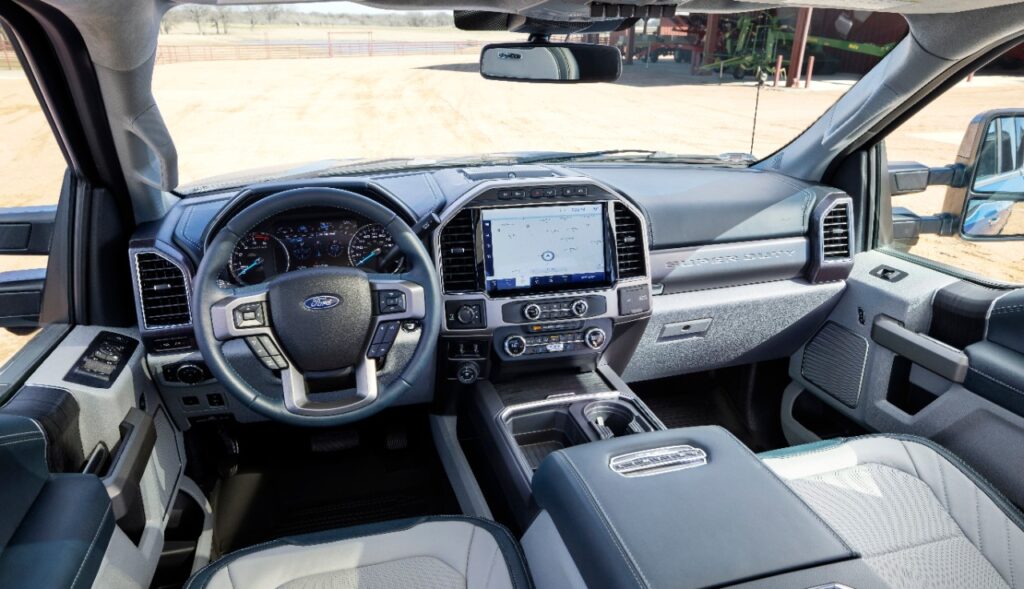 In truck news, Ford has announced the 2022 Super Duty trucks, set to be available in a few months. Not much new, the exterior is identical, as are the power trains, but the interior gets a new available 12" screen and an update to Ford's new Sync 4 infotainment system. Apple Car play will no longer require a cable, and Android Auto will be fully supported. 
KOA Sees 60% Increase in Reservations
If you still believe the current RV & camping craze is entirely pandemic driven, here's an interesting fact: KOA, North America's largest campground chain, had an increase in reservation revenue by over 10% in the first two months of 2020, before Covid hit the continent in earnest, according to an article in RV Business. Then, during the period from March 16 to May 17, the bottom fell out, and the company's revenue dropped 43%.
While a lot of campgrounds were struggling to refund reservations, KOA corporate stepped up and covered 100% of reservation deposits and cancellation fees for its 522 franchisee campgrounds. That's over $3 million. By September 7, KOA had made that back and then some, setting new reservation records in June, July, August, September and October.
The momentum gained in 2020 has carried over into the first two months of 2021. Consumer traffic on KOA.com was up 25.6 percent during January and February, and there's a nearly 60% increase in camping reservations over last year.
A New California Law May Require Smog Checks Diesel Motorhomes — Even When Traveling Into the State
The California Air Resources Board — or CARB — has announced it is developing a new regulation that would require diesel vehicles over 14,000 pounds operating in California (including vehicles registered out of state) to have proof of properly functioning emissions control systems. Essentially, if you want to drive a big motorhome into California, you might have to have a smog check upon arrival. State and national campground associations are lobbying for the exclusion of private motorhomes from the law, as is the RV Industry Association. If passed, the law would likely go into effect in 2023. 
Starlink Takes a Step Towards Mobile Use
Finally, few clues about the possibility of using SpaceX's Starlink in an RV have been available since beta testing launched for folks living in the upper latitudes of North America. Most of us travelers have assumed that the high-speed low-orbit internet service will eventually be able to be mounted on our mobile recreators, but Starlink has locked the beta-testing phase to specific addresses.
That all changed last Friday when SpaceX filed with the Federal Communications Commission (FCC) for approval to use the technology on "Earth Stations in Motion." Translation: Cars, boats, aircraft, and RVs will soon have Starlink dishes on their roofs if the government agrees. Starlink is still a decent way from being ready for prime-time, and we're stuck with cellular for the time being, but with FCC approval, Starlink will be one step further toward being a real, robust option for internet while traveling in an RV within a year or two.
That's it for this RV & Camping News brief, let us know your thoughts in the comments.