Starlink for RVs is here, and you can get it now with no wait.
SpaceX, the operator of the low-earth-orbiting satellite internet service known as Starlink made a quiet but major update to their website today with a plan specifically for RVers – and unlike the stationary service, it's available for immediate order. 
Starlink offers lightning-fast data anywhere you have a clear view of the northern sky, but until now, you had to order Starlink service for a fixed address, and you were put on a waiting list to get the equipment sent to you when service opened up in your home area. Many people have been waiting well over a year, and others have been circumventing the system by ordering at a random address in an open area and having it shipped elsewhere.
A "portability" feature, which allows you to move it around the country without changing your address every time, was only made official a few weeks ago.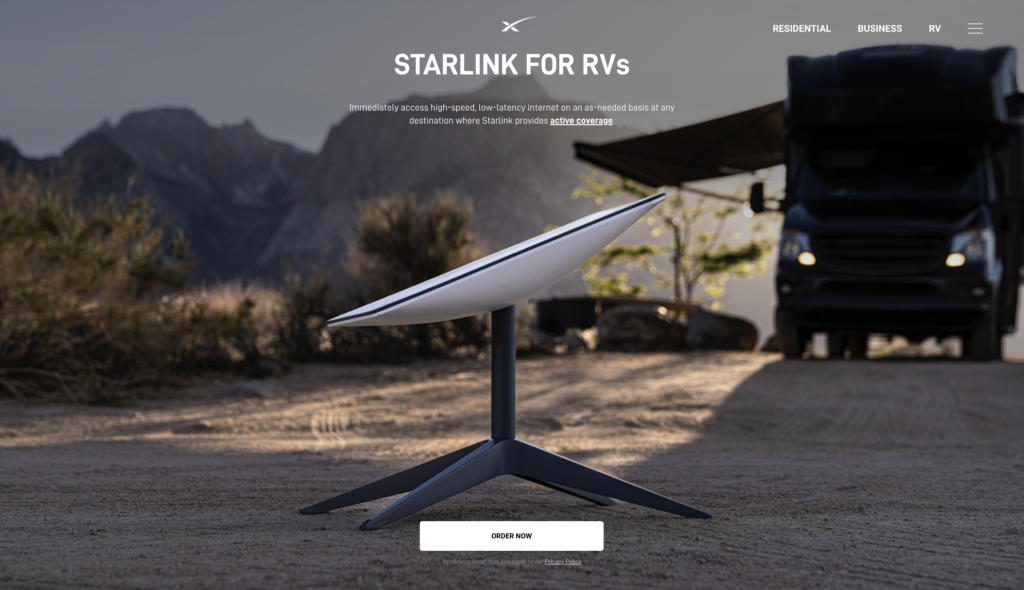 What's different about Starlink for RVs?
As far as we can tell, the "Starlink for RV" equipment is exactly the same – a rectangular dish, a stand, a router, a 75' proprietary cable that goes between the dish and the router, and a power cord for the router.
Besides immediate availability, there are two major differences between the fixed-location service and the new Starlink for RVs. First, the data is deprioritized. Meaning that when you're camping in an area, all the people with fixed-location service get access to the network before you, and your data is "a best attempt" to provide you with good service. If you look at the map of availability for Starlink's stationary service, you'll see which areas are on "waitlist," which means they are currently full. Starlink for RV users can expect high speed, low latency internet in areas marked "Available", and notably slower speeds during hours of peak usage in areas marked as "Waitlist."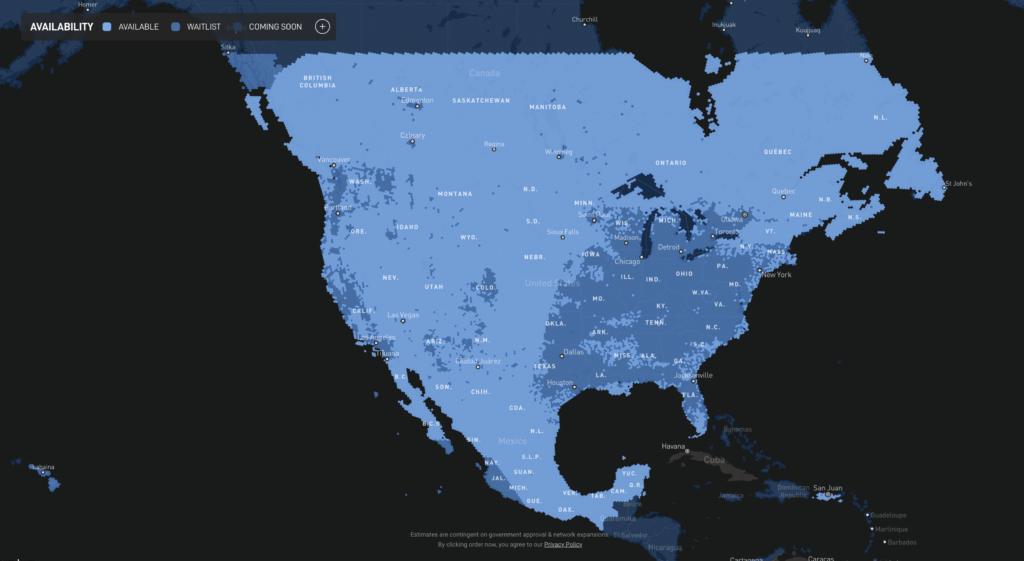 At the moment, that's probably going to be completely unnoticeable for most people. After all, you can stream HD movies in two different rooms on a 10mbps cellular service, and Starlink is offering generally well over 100mbps. But when tens of thousands start buying Starlink for RVs, that may bog things down a bit. Especially when full-timers and snowbirds start to congregate in places like southern Arizona for the winter.
The "Portability" feature that folks are paying an additional $25 a month for on the old stationary service comes with the same deprioritization. But, folks with residential service will get priority data in their home area.
Pause Your Starlink Service When You Aren't Using Your RV
The other big difference is that Starlink for RVs is paid for a month at a time and can be paused. With the stationary service, you can only cancel and then start it up again if and only if there's still availability in your area, which is a big gamble.

At the moment, Starlink has confirmed that you cannot convert the stationary residential version to the Starlink for RVs plan, but I would hope that they eventually make that possible.
Which Starlink service is right for you?
If you're a full-time RVer, it's probably best to get the stationary residential service, because at least in your "home area" you get priority data. You can even update your address if you'll be staying in a specific area for a while.

Similarly, if you are a part-time RVer but plan to use Starlink as your at-home internet as well as on the road, you might want the residential version. But if you have different internet service at your home than on the road, definitely get Starlink for RVs.
And, of course, if you want it now with no waiting, you'll need the RV version. It's possible that with this new plan, Starlink will get more strict about people using a random address that's different from the shipping address.
The Positives and Negatives of Starlink
We've been using Starlink for a few months now throughout the southeast, and where it works, it's an absolute game-changer. But there are a few drawbacks.
First off, it's useless in heavy tree cover. Our current campsite is 100% under a canopy of green and we cannot get service. When you get pockets of open sky, you can start to get signal with significant outages several times an hour. As the signal improves, you may not notice the outages when you're streaming video, but you will notice them when you're using it for real-time communications like Zoom meetings. If you work from the road and spend a lot of time teleconferencing, you'll definitely want cellular options, and to get as much open sky as possible when using Starlink.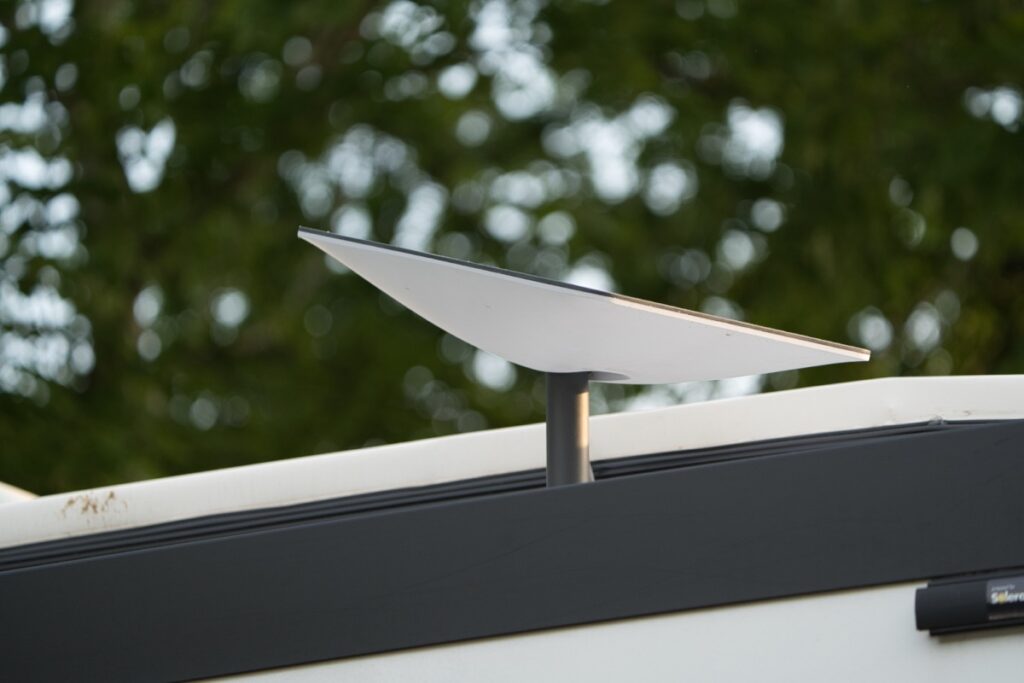 You can move the dish around, put it on your roof, or bring it out toward the campground road to try and get better visibility. But we definitely still rely on cellular internet when we're in a forest.
The equipment also just isn't ideal for RVs. It takes a lot of power when you're off the grid, and it's hard to figure out running the router into your RV with the proprietary cable. The cable's connector on the dish end is finicky, and I have lots of frustration getting it back in. I usually have to shim it with a piece of thick paper. That's annoying to do every time you arrive at a new campsite. And the router doesn't have ethernet ports.
Many early adopters have been experimenting with mounting the dish to their roof or on flagpoles, and with making their own cable connectors, but these are all hacks that take some ingenuity and time to figure out.
We recommend you just plug the thing and run the cable inside through a slide seal or a hole in your RV's pass through, and put the dish out on the ground instead of trying to mount it. That gives you the flexibility to move the dish where you can get the best signal.
And Starlink is not for use traveling down the road in-motion, so mounting it on your roof isn't that beneficial. I often put it up their by climbing up a ladder, which I would do anyway if I was mounting it to a pole. It will technically work in-motion, but it's against the terms of service, and Starlink says they may shut your service down if you're using it while driving,
I believe the in-motion issue has to do with their FCC licensing approvals, but you can bet it's coming someday, probably with a dish that's meant specifically for mounting on RVs.
Starlink for RVs Pricing
Starlink service is $110 a month for stationary users, with an additional $25 per month fee for portability for a total of $135 a month.
Starlink for RVs is also $135 a month.
The equipment package is $599, plus $50 for shipping, and tax. So all in, you're looking at about $835 up front, which includes your first month of service, and then $135 per month thereafter.
Overall, Starlink opens up a lot of opportunities for people who need internet wherever they go. You can get internet in the boondocking locations that are far from cell towers. In the middle of National Parks, and even into Mexico and Canada. And honestly, it's not much more expensive than most of the cellular options out there for far superior service.