Listen below, or on any podcast app:
By Jason Epperson
Main Street of America. The Mother Road. Is there anything more American than cruising from Chicago to LA on Route 66 in a classic convertible blasting Steppenwolf's "Born To Be Wild"?
Well, OK, Steppenwolf was half Canadian. How about Golden Earring's "Radar Love"? Nope, Dutch. Got it! Springsteen. "Cadillac Ranch." Just try and out-America that.
Route 66 lives in our fantasies as the pinnacle of freedom, abundant open-air, and roads that move with the landscape, instead of being blasted through them. That's right; I just quoted Disney's "Cars" movie.
As much as Route 66 is burned into the soul of Americana, I'm sad to report for the uninitiated, the overall drive is a shell of what it used to be. Whole towns have been swallowed up by an interstate superhighway that made their quaint neon and cigar store Indian kitsch a thing of the past.
That's not to say it's a worthless experience. Today, Route 66 is less about the drive than the stops along the way. Many are boarded up or have been swallowed by the dust and tumbleweed of the Southwest, but those that survive remind us of where we've been and where we're going.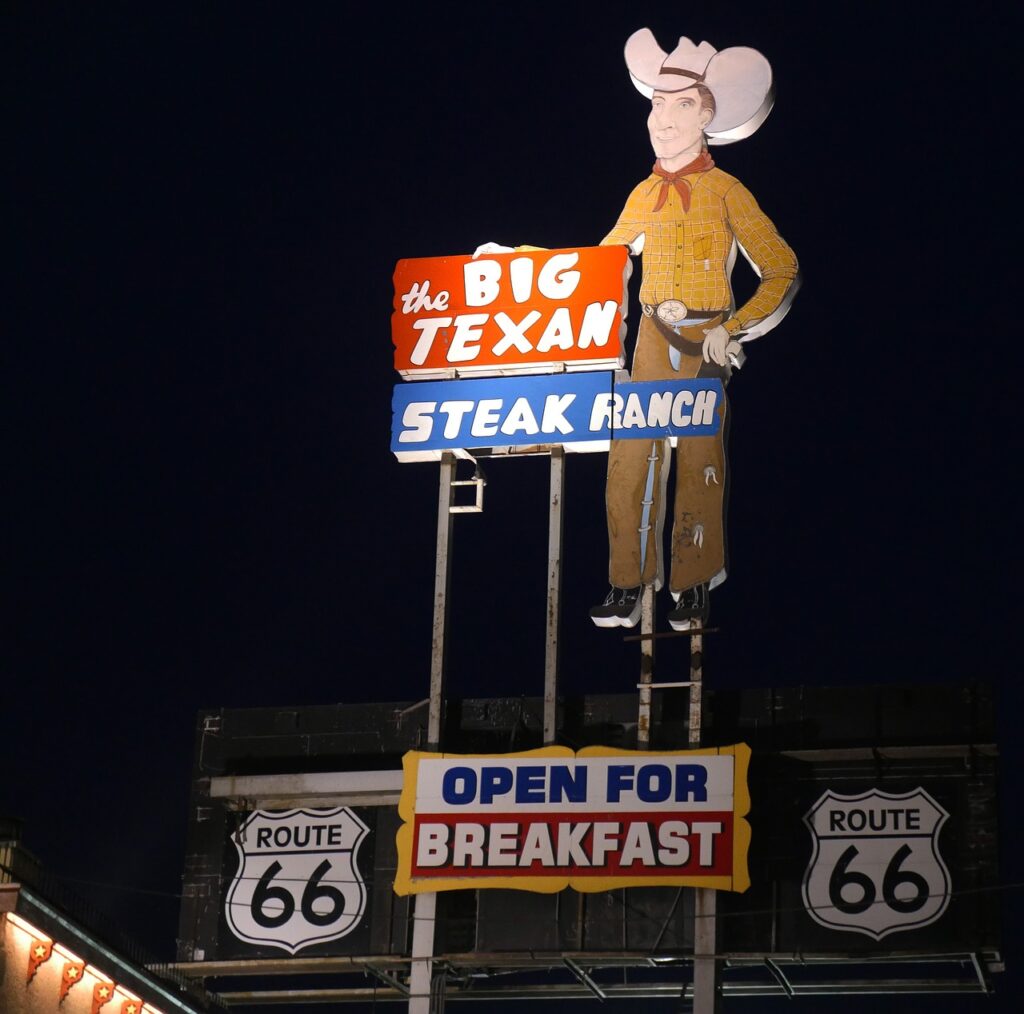 At the center of the Texas Panhandle lies the legendary, bustling cattle town of Amarillo. In fact, it's pretty close to the midpoint of Route 66. Here you can patronize the Big Texan Steak Ranch, where if you can eat a meal consisting of a Shrimp Cocktail, Baked Potato, Salad, Roll, Butter, and a 72 oz. Steak in under an hour, you get it free. Break the rules or fail to keep it down, and you owe the restaurant $72. 124-pound Molly Schuyler holds the Guinness record for eating not one, not two but three of the meals in only 20 minutes. That's three baked potatoes, three salads, three rolls, three shrimp cocktails and more than 13 pounds of steak. So…it's that kind of town.
Here, as along much of the journey, Route 66 is I-40. As you drive through the outskirts of Amarillo, you're greeted by literally hundreds of thousands of cattle, just feet from the road, waiting for auction. If you're cruising in a convertible, this is the time to put the top-up.
If you blink you could miss one of the wildest art installations in the west. Cadillac Ranch.
Cadillac Ranch is pretty plain, yet profound at the same time. A monument to the "Golden Age" of the American automobile, Cadillac Ranch is no ranch at all. It's simply a row of ten graffiti-covered Cadillacs – all mid-twentieth-century tailfins – half-buried, single file, east to west, in a dusty Texas field, all nose down at the same angle, — purportedly corresponding to that of the Great Pyramid of Giza in Egypt.
But how did these Cadillacs get here? And why?
Chip Lord and Doug Micheals were architects and Hudson Marquez was an art student at Tulane University in New Orleans. The three were members of avant-garde architecture, graphic arts, and environmental design group called "Ant Farm." Founded in San Francisco, Ant Farm was an attempt to build an architecture group that was more like a rock band. "We were telling [a friend] that we would be doing underground architecture, like underground newspapers and underground movies," said Michaels. "She said, 'Oh, you mean like an Ant Farm?' and that's all it took.
The choice of the name was suggestive of the way Ant Farm worked: when the right idea arrived, everybody acknowledged it and instantly adopted it.
The group's initial goal was to reform education, but with little funding, Michels and Lord relocated to Houston, Texas, where they both became visiting professors at the University of Houston.
There they began putting on performances and installations in the Houston area and became known for their counter-cultural performances and media events.
Eventually, the group moved backed to California, where the free speech movement and the antiwar demonstrations in San Francisco heavily influenced them. In 1967, the group partook in the Summer of Love. They embraced the youth cultures' communal living, sexual freedom, hallucinogenic drugs, and utopian ideals, and they adapted a do-it-yourself ethos.
San Francisco became the hub of new art forms such as performance and video, and Ant Farm gravitated to these new forms and began incorporating it into their work with much of their early designs consisting of giant inflatable structures.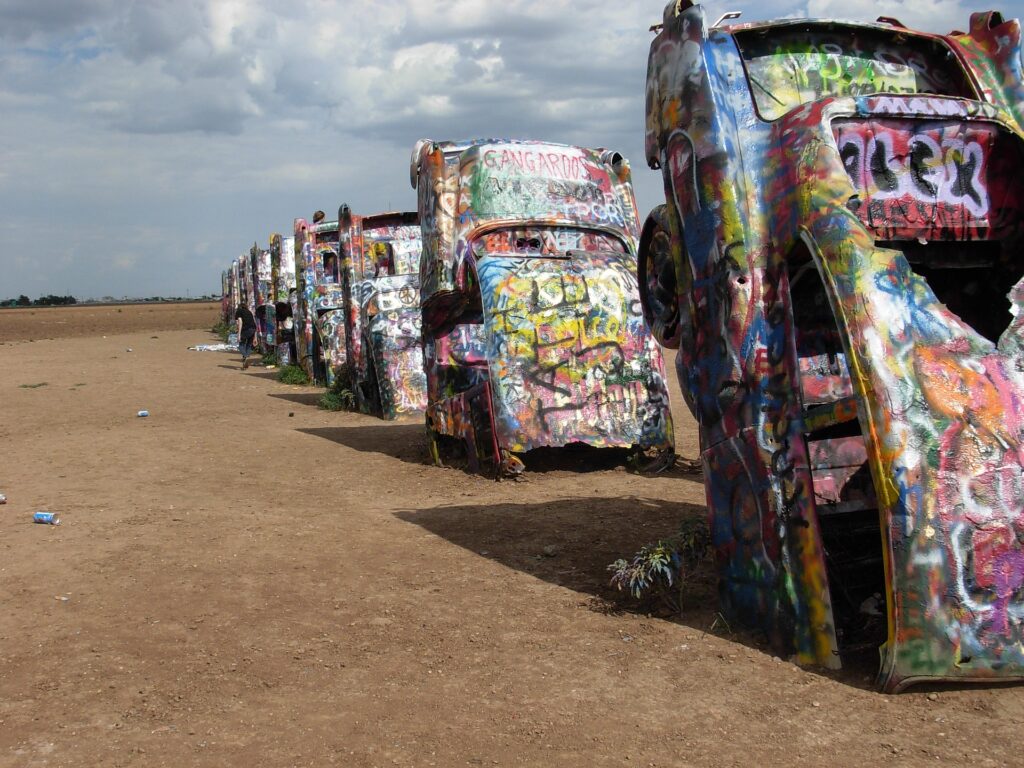 "Chip and I were living in the mountains north of San Francisco," said Marquez," and there was a book meant for kids left in a bar near where we lived. It was called 'The Look of Cars,' and there was something on the rise and fall of the tail fin. I didn't have a lot to do, so I just sorta drew it up. I've always loved the Cadillacs."
The group had been given a list of eccentric millionaires that might fund projects, and the approached Stanley Marsh 3 of Amarillo with the idea of an installation of half-buried Cadillacs. Marsh, who thought the Roman Numeral III was pretentious and spelled his name with the number 3 instead, was well known in Amarillo for his patronage of artistic endeavors. He responded to the proposal by saying: "It's going to take me a while to get used to the idea of the Cadillac Ranch. I'll answer you by April Fool's Day. It's such an irrelevant and silly proposition that I want to give it all my time and attention so I can make a casual judgment of it."
Marsh kept his promise and decided to fund the installation, which would be placed on a wheat field he owned along Route 66. In 1974, Ant Farm procured ten used Cadillac cars from the years 1949 to 1963 and installed them.
The prominent location was essential to the work's success. Interaction with the cars was always part of the plan. "If it had been sited in a remote place," Lord said, "it would be pristine today." "And no one would have seen it," Michels added. "We wanted it to be an interactive monument, so people could express themselves."
Visitors could arrive on the private land, enter an always-open gate, and add whatever graffiti they wished to the cars.
As Amarillo increased in size, the installation was quietly moved by a local contractor to a location two miles to the west, a cow pasture also owned by Marsh. While Ant Farm and Marsh encouraged both visitors and graffiti, Marsh had no patience for people absconding with pieces of the cars or any of the many artist crafter road signs on site. Before he died in 2014, Marsh was even known to briefly jail thieves in a nearby chicken coop.
The cars are periodically repainted with a fresh, clean coat giving visitors a blank slate to work on. In the past, they've been given an all-pink coat for breast cancer awareness and painted flat black to mark the passing of Doug Michels. In 2012 rainbow colors adorned the Cadillacs in celebration of gay pride. They were also briefly restored to their original colors as part of a Route 66 landmark restoration project. The new paint jobs and even the plaque commemorating the project lasted less than 24 hours without fresh graffiti.
---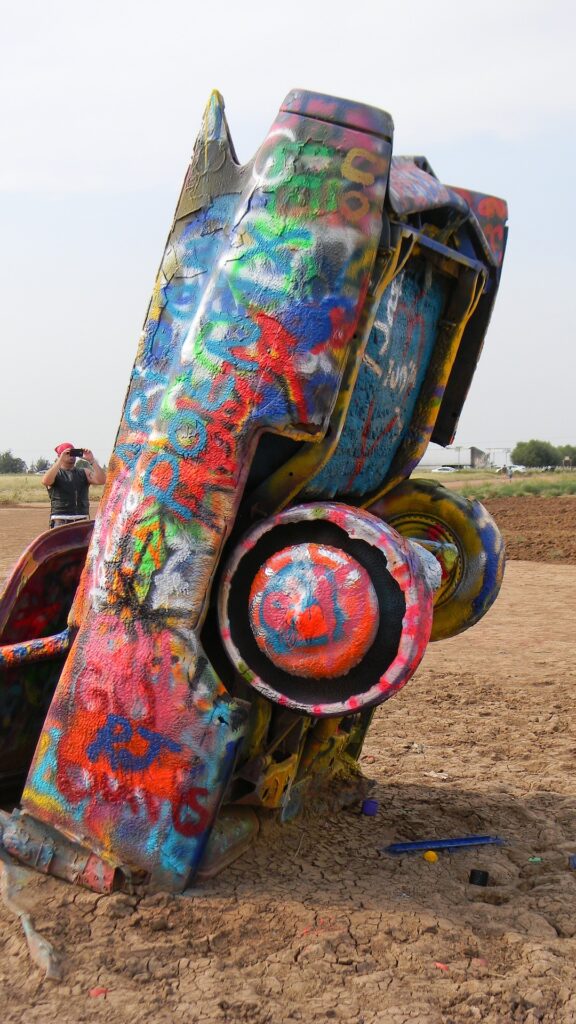 Over the years, Cadillac Ranch has appeared in dozens of music videos, TV shows, and movies. And, of course not one, but two hit songs. Using the half-buried Cadillacs as a metaphor for mortality, Springsteen's version has been called "one of the smartest songs ever about the inevitability of death.
Cadillac Ranch became so ubiquitous that it inspired the nearby Volkswagon Slug Bug Ranch and Combine City, which has 15 massive harvesters half-buried in the ground, nose down. Cadillac Ranch also inspired Carhenge, in Alliance, Nebraska and Berwyn, Illinois now demolished "Spindle," which consisted of a 50-foot spike with eight cars impaled on it in a mall parking lot.
To visit Cadillac Ranch, you need to be headed eastbound on I-40 between exits 60 and 62, west of Amarillo. Exit onto the frontage road, then enter the pasture through the unlocked gate. The cars have been stripped of everything that can be pulled off of them by people over the years – doors, mirrors, steering wheels, glass…everything. They're also covered with an incredibly thick coat of paint, but this unique spot is still such an iconic bright spot in an otherwise very brown swath of America. Bring a couple of cans of paint, but there will be plenty leftover from other people. A vendor on site often sells souvenirs made from chunks of paint pulled off of the cars.
Cadillac Ranch, like so much of what is left of Route 66, is woven into the fabric of the American road trip and if you find yourself near Amarillo, you definitely need to leave your spray pain mark…and maybe think about having a steak.
---
Jason Epperson is the co-host of the See America Podcast and Co-Founder of the RV Miles Network, a network of resources for the U.S. based traveler. He, along with his partner Abigail Trabue, travel the country full-time with their three boys discovering great destinations and exploring our National Parks.
To learn more about the RV Miles Network, including the RV Miles and America's National Parks Podcasts, visit RVMiles.com.
Want to chat about great travel destinations all across the US? Join the See America Facebook Group and don't forget to follow See America on Instagram, Facebook, and YouTube.
You can hear this story and more on the See America Podcast. Available on Apple Podcasts or wherever you listen to podcasts.
---
Learn More
Links to some of the resources we used and the website links we mentioned in this episode.
https://en.wikipedia.org/wiki/Cadillac_Ranch
https://en.wikipedia.org/wiki/Ant_Farm_(group)
https://www.roadsideamerica.com/story/2220
https://www.theroute-66.com/cadillac-ranch.html
---

See America is sponsored by Roadtrippers. America's #1 trip planning app. Enjoy 20% off your first year of Roadtrippers PLUS with the code RVMILES917X.